Difference between revisions of "Shutter"
Jump to navigation
Jump to search
m

(run as service link)

Line 26:
Line 26:
 

* Hang Up,

 

* Hang Up,

 

* Alarm.

 

* Alarm.

 
+
 
+
 
+
---
Revision as of 20:26, 2 August 2009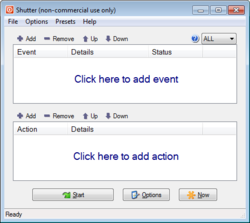 Shutter is a multifunctional shutdown utility, which has a user friendly and easy-to-use interface and supports many different Events and Actions. In addition to standard actions, it is able to play a custom sound, run a program of your choice, and show a shutdown message. Optionally, Shell Links can be created to immediately execute any of the supported actions from the desktop. Web Interface - allows Remote Execution of any Action, it also displays some run-time information about the computer: Logged In User, Up Time, List of Processes, Screenshot of a Desktop, plus Command Line Execution.
List of Events
Countdown,
On Time,
Winamp Stops,
Low CPU Usage,
User Inactive,
Battery Low,
Window Closes,
Process Stops,
Ping Stops,
File Size Limit.
List of Actions
Shutdown,
Reboot,
LogOff,
Lock Workstation,
Sleep,
Hibernate,
Monitor Turn Off,
Mute/UnMute Master Volume,
Hang Up,
Alarm.
Help Articles