RandPass was migrated to a new development environment. The first benefit of this move is the implementation of multilingual user interface and creation of an installer version. More great features will follow.
At the moment it comes with English and Russian user interface languages, but there is an easy way of creating translations for any other languages. If you are interested in making a translation, please read the Localization article.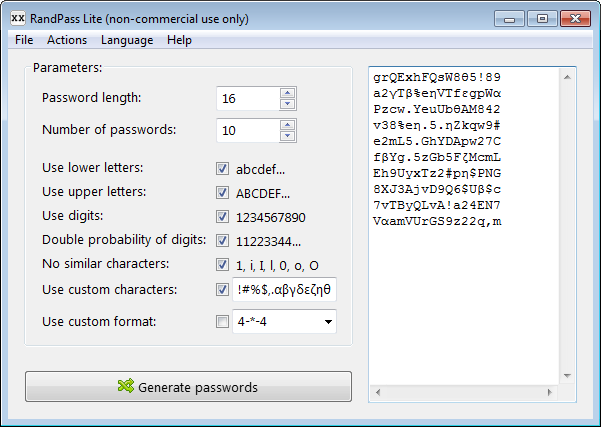 Full list of changes in RandPass 1.4:
* Converted application project from Delphi to Lazarus/FPC.
* Use Settings.ini instead of <Application>.ini naming for settings.
* Store all user data in user profile directory for Installer version.
* Added multilingual support using PO files in Languages folder.
* Added Language menu.
* Added Russian translation file.
* Updated application icon to be cleaner and crisper.
* Fixed truncated display of used password characters.
* Renamed "Double digit probability" to "Double probability of digits" to avoid confusion.
* Do not halt application when not supported command line arguments were supplied.
* Internal code improvements.