Colors
Jump to navigation
Jump to search
The printable version is no longer supported and may have rendering errors. Please update your browser bookmarks and please use the default browser print function instead.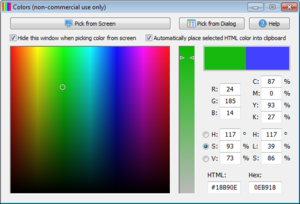 Colors is a color picker that helps you easily select a desired color using various pallets.
It is also able to pick a color from the currently displayed screen content and supports a number of different color models, i.e. RGB, HSV, HSL, CMYK.
Help Topics