ReNamer 7.1 is a major update that brings new features, bug fixes and better support for recent and future operating systems.
Highlights of changes:
Added options for adjusting date/time parts in the Reformat Date rule.

Added context menu options for adding a new rule above or below the currently selected rule.

Allow multiple selected rules to be moved around, including continuous and discontinuous selection.

Remember location of additional windows: Add Rule, Analyze, Presets Manager.

Added a wide range of unit tests for renaming rules to ensure the stable operating at all times.

Refactored main toolbar, including improved sizing and an ability to hide it.

Implemented validation of Windows long path specification with "\\?" prefix. This trick allows to overcome the legacy 260 path length limit imposed by Windows.

Implemented handling of the Unicode word boundaries in the RegEx engine.

Improvements to MP3 meta tags, including proper support for Unicode capabilities of ID3 v2.4.0.

Improved translation framework. Certain messages which do not require translation are excluded from the translation files, thus, removing the unnecessary overhead for translators.

New translations added: Ukrainian, Turkish, Tamil (India).

New transliteration files: Bulgarian, Lithuanian, Vietnamese.
Here is a sneak peek into one of the new features....
Imagine that you have a collection of date stamped photo files and realized that the dates were all wrong, for example, off by 1 day. Or, you have scanned a bunch of documents, which were automatically time stamped by the scanner, but then you realized that the clock on the scanner was off by 5 hours. Then imagine you have thousands of such files with wrong dates and times in the filename. Oh my!
ReNamer to the rescue! Now you can easily adjust any part of the date and time in the filename, in any format. See a quick demo below that resolves such issues.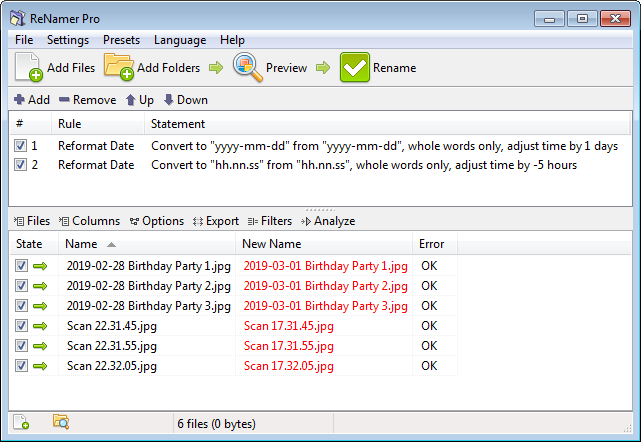 Please note that the list of supported platforms has changed. Support for obsolete Windows 9x platforms has been dropped. The new list of supported platforms: Windows 2000 and later.
See the full changelog between v6.9 and v7.1 for more details.