You can start as many instances of Shutter as you like. They will work independently from each other.
If you start two instances, you should see two Shutter's main windows, two entries in the taskbar, two tray icons, and two associated processes in the Task Manager.
For example: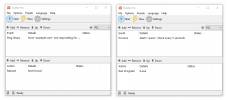 All what's left to do is to click "Start" in both of them.