I am trying to utilize lookaround to separate digits with periods, but only in certain circumstances.
My exact goal is here (this is my post): https://stackoverflow.com/questions/752 … 2#75228472
The first response gave me the following solution:
Expression:
(?:(?<=\s)|(?<=\sv))(\d+)\s(?=\d)
Replace:
Unfortunately I am getting an error in Renamer.
TRegExpr compile: lookaround brackets must be at the very beginning/ending (pos 4)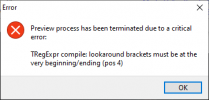 Can someone explain to me how I can get this expression to work?
Or what regex engine that ReNamer uses so I can ask for more specific help on stackoverflow?
Any help at all would be great.