UPDATE 2: Feature implemented! Works great! See posts #8 & #9! Thank you so much developer!

UPDATE: See post #5 for a better, more clear explanation.
Hello,
I highly like this program and it is 99% perfect for me. The best I've found so far and I use it a ton!
All I need is for you to add one very simple option in the Rename settings: Clear selected on rename.
I am incredibly surprised that this is not already an option and also surprised that I could not find anyone else talking about it at the forum!
I definitely do not want to clear the rules list on rename as I tend to have further tasks to accomplish of different renaming operations immediately after a previous rename procedure.
The issue that I noticed is the following:
I have the settings to Clear renamed files on rename.
I would add some files and perform for example a truncation task to remove several characters.
BUT if I forgot to uncheck the truncation rule and added the next batch of files to perform a different renaming task (i.e. Case operation), then those files would also undesirably get truncated too.
Thus it would be MUCH better if there was an option to Clear selected on rename. It would uncheck that truncated task for example and not apply it to the next immediate operation.
Most of my use is to perform a different task after the previous one so it would be more efficient to have a Clear Selected on Rename option.
Thank you very much for an already great program! Adding this easy and simple feature will make it that much better! Oh, and also a dark mode but, can't be too picky.
Thanks!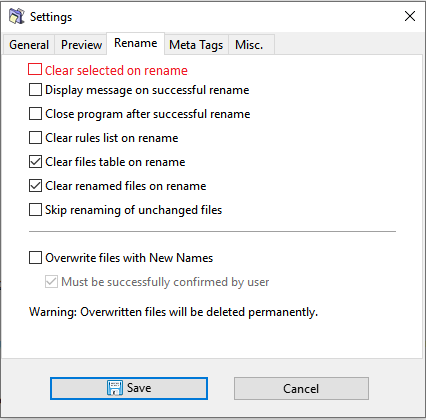 Last edited by ecomms (2022-05-17 07:54)