Hooker
Jump to navigation
Jump to search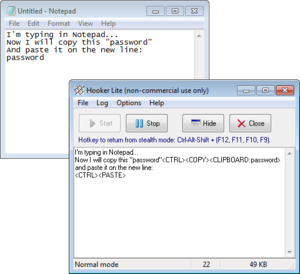 Hooker is a lightweight keyboard activity spy.
It allows capturing of all keystrokes made by the user, including any clipboard changes. Currently active process name and window title can be logged and used for filtering the captured data. It is Unicode aware, so characters generated in any language are going to be recorded correctly, even combining keys such as accents.
Advanced logging facility can periodically save all of the activity in a log file, send via email or upload to an FTP server. The program is completely hidden during normal operation and is accessible only with a secret key combination (and a correct password in "Pro" version).
When Hooker is in stealth mode, it can be brought back up by a hot key combination Ctrl + Alt + Shift + F12 (or F11, F10, F9).
Help Topics