This product is discontinued. New licenses, support and further development and are no longer available. The product information and downloads remain accessible for the convenience of users, but may be removed in the future without further notice.
Description
CPUMon is a simple little gadget for monitoring CPU performance from your desktop. It displays a real-time graph of CPU performance as well as current usage indicator. Features include user defined colors, transparency, alpha-blending, adjustable update rates, layout presets, window locking, constantly updated CPU speed for mobile and speed step processors, tray icon mode, statistics, memory usage, and more.
It comes integrated with a sophisticated processor detection toolkit which provides detailed CPU information, list of supported CPU features and other specifics.
Available languages
Technical details
Requirements: Windows 98 and later
Screenshots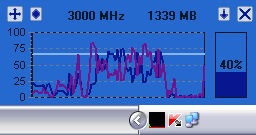 Click on the image to see more screenshots.