Difference between revisions of "Shutter"
Jump to navigation
Jump to search
Line 23:
Line 23:
 
 
 

== Topics  ==

 

== Topics  ==

 
+
 
+
 
 
 

*[[Shutter:Quick Guide|Quick Guide]]  

 

*[[Shutter:Quick Guide|Quick Guide]]  
---
Revision as of 06:50, 6 January 2011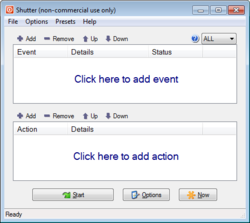 Shutter is a powerful and flexible multipurpose task-launcher.
Despite its name, its use is not limited to shutting down a program or the PC: Shutter can wait for one or more events and then execute a lot of diverse actions, such as-
Launch specified application(s)
Close specified application window(s)
Kill specified application(s) even if they are running in system tray.
Play a custom sound
Display a message on screen
Disconnect the dial-up modem
Log out from Windows account,
Lock the desktop or start a screensaver.
Shut down the PC, reboot, hibernate, sleep, etc.
Apart from a user-friendly and easy-to-use interface, Shutter also offers the following options:
You can create links on Desktop, to execute any of the supported actions directly from the desktop.
You can use Shutter's Web Interface to remotely execute any action.
You can also remotely see the run-time information about the computer: Logged In User, Up Time, List of Processes, Screenshot of a Desktop, plus Command Line Execution.
Topics
Note that this manual describes the latest beta.As a result, if you are using the stable version of Shutter, you may not have some of the features described here. Also, the screenshots shown here may be a little different from the interface you see.